CONFERENCES
The Texas Counseling Association hosts and sponsors several conferences throughout the year for counselors of all types. For more information, click Here.

Tidal Basin


While you're in Washington, DC for AMHCA's Annual Conference, make every minute count with a pre-conference workshop - and earn 4 more CEs!
AMHCA Pre-Conference Workshops
July 23, 2009, 1:00 p.m. to 5:30 p.m.
Register Now!
Private Practice: Minding Your Own Business in Tough Financial Times
Janet Honeck, CPA, PFS
Do you aspire to "just pay the bills" or to have more than enough cash flow in your practice?
Does a good year find you worrying more about taxes than celebrating your success?
Have you been paying yourself first or last?
Is your retirement saving plan on track?
Explore your beliefs to help you develop and implement a plan to make your financial visions a reality.
Experienced CPA and tax consultant Janet Honeck is also certified as an empowerment trainer. Her workshop combines empowerment methodology with financial planning to help participants investigate and change the thinking that brought them to the numbers in their financial life.
Ethical Challenges in Supervision/Consultation
Denis Lane, Attorney and Author on Mental Health Law
Jeri W. Stevens, PhD, LCPC
Specially designed for counselors who provide clinical supervision and consultation to pre- and post-licensed counselors, this program explores challenging clinical supervision/consultation dilemmas of both ethics and law. Participants can ask hard-to-answer questions on this subject, and clinicians are encouraged to share their experience and wisdom.
The training will include:
Brief overview of clinical supervision ethics
Preparing for supervision: Informed Consent and Supervision Contracts
Ethical dilemmas: Dual/Multiple Relationships, Boundary Relationships
Gatekeeping: who's responsible?
Avoiding risks:Malpractice suits and how to prevent them
Recordkeeping: The best line of defense
Q&A on Ethics
---
AMHCA 2009 Annual Conference
CONNECTION, HEALING and WHOLENESS: Strengthening Individuals, Families & Communities Through Mental Health Counseling & Advocacy
July 23-25, 2009

Visit DC
Recognizing the enormity of the economic, social, and mental health issues facing our nation and the world, AMHCA's 2009 conference:
Focuses on core principles in mental health counseling practice.
Recognizes the breadth and depth of the mental health counselor's scope of practice.
Celebrates our contributions to individual, family, and community well-being through our counseling and advocacy efforts.
Mark July 23-25, 2009, on your calendar and REGISTER NOW for the best rates.
We look forward to seeing you in Washington, DC!
AMHCA CONFERENCE REGISTRATION INFORMATION
EARN UP TO 20 CEs!
Conference provides 16 CEs from NBCC, plus 4 more with a pre-conference workshop.
The AMHCA registration fee also covers all these events:
Welcome reception
Morning and afternoon refreshment breaks
Cyber Café
Conference closing reception
MEMBER REGISTRATION
$375 - Early Bird (act by May 15)
Pre-Conference Workshops: $125 each
REGISTER NOW!
$425 - Regular registration (act by June 15)
$475- Late/Onsite
$185 - Student or retiree
$260 - Single Day
$185 - Spouse/Guest
$45 - Awards Luncheon

NON-MEMBER REGISTRATION $455 - Early Bird (act by May 15)
$475 - Regular Non-member (act by June 15)
$525 - Late/Onsite
$275 - Single Day
---
Conference Hotel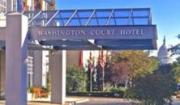 Conference Location
AMHCA's 2009 conference will take place at the Washington Court Hotel on Capitol Hill in Washington, DC. The hotel is just two blocks from historic Union Station and three blocks from the US Capitol Building. The National Mall and Smithsonian museums are within walking distance.
---
PHOTO CREDITS: Tidal Basin: Destination DC; Panda Cub: Meghan Murphy, Smithsonian's National Zoo.
---
AMHCA
Thank you for your membership and support of the American Mental Health Counselors Association, the ONLY organization working exclusively for the mental health counseling profession.
www.amhca.org